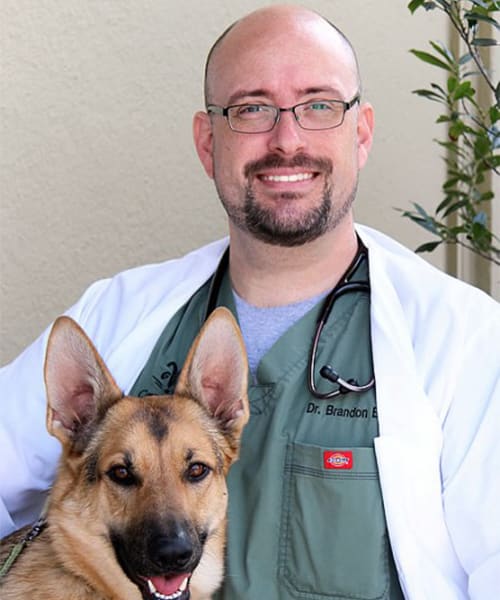 Dr. Brandon Barrett
Dr. Brandon Barrett studied Biology at Cal Poly, San Luis Obispo in 1997 and then received his doctorate of Veterinary Medicine from UC Davis in 2001. He has been working at Community Veterinary Clinic ever since.

"I love puzzles," said Dr. Barrett. "I really enjoy challenging medical cases. I like having to act as a 'medical detective.' Often cases require a mixture of medical expertise and inspiration/creativity. Those cases keep my job interesting, challenging, and rewarding."

Dr. Barrett treats both small animals (dogs and cats) and exotic species (birds, reptiles, amphibians, rodents, rabbits). Dr. Barrett is from Turlock, and he takes serving his community seriously.

"My goal is not just excellent patient care, but to provide that while retaining the 'small town doctor' bedside manner," Dr. Barrett said. "At Community Veterinary Clinic, we pride ourselves in our ability to blend our skills and modern technology to help our patients without making our clients feel like a number."

"This is my community," continued Dr. Barrett. "My clients are real people that I've known all my life and see every day. Their pets are like my pets."

Of course, Dr. Barrett treats sick animals, but one of his goals as a veterinarian is to prevent them from becoming ill.

"Knowledge is the key to health and longevity," said Dr. Barrett. "Feeding your pet the correct diet, making sure they get exercise, proper preventative care, and testing can significantly improve the quality and length of your pet's life. At Community Veterinary Clinic, we stress proper vaccinations and parasite control, using diagnostics for early detection of disease in older pets, as well as proper exotic pet care."

Before working with animals, Dr. Barrett worked with technology. That interest carried over to his study of veterinary medicine.

"I love ultrasonography," explained Dr. Barrett. "We have a fantastic ultrasound at Community Veterinary Clinic. My passion for ultrasound started in vet school. I love the idea that we can look inside the body at the internal organ, monitor blood flow with Doppler through heart valves, and give clients the first look at the future puppies/kittens that their pet is carrying, all without pain or trauma. It is the ultimate in non-invasive diagnostics. I love technology, and the idea of mixing the latest equipment with the human bedside manner very much appeals to me."

If veterinary medicine was just working with animals, Dr. Barrett wouldn't love the job as much. His passion for working with clients sets him apart in the veterinary field.

"I really enjoy interacting with clients," said Dr. Barrett. "A large part of being a veterinarian is and should be educating people in a positive fashion. I enjoy being part of a pet's health care team, and their owners are part of that team. I believe making lives better for animals makes lives better for people as well."
His family includes two sons, one daughter and countless pets. He has taught his children from an early age about interesting animals and the bonds they can form with people. Dr. Barrett believes there is more to his profession than medicine, and he hopes the same for all veterinarians.

"I would like veterinarians to be more than just animal doctors," said Dr. Barrett. "We should be educators, helping our clients to learn how to help their pets live longer and fuller lives. We're all in this together: pets, owners, veterinarians. We're all part of a team, and I love the role I get to play."

Come visit Dr. Barrett at Community Veterinary Clinic and experience his approach to veterinary medicine firsthand. He would love to meet you and your animal friends.